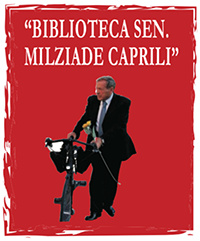 On Sunday the 12th of June in 2016 a library entitled to the senator Milziade Caprili has been inaugurated at Villa Argentina. It contains his book heritage.
Among the enhancement works of the Villa spaces and the project of making it Viareggio's cultural palace, the Province made, according to the agreements signed by the Provincial Administration itself, the City of Viareggio and the Milziade Caprili Foundation, an area of about 70 square meters available. The area is accessible from a different entrance than the Villa's main one.
Eight thousand volumes of every kind: Italian and foreign literature, narrative, sociology and economy, books on the Resistance, anti-fascism and the history of Italian Parliament and the Founding Fathers, books on Karl Marx and the history of the Communist Party and also volumes on the history of art and science. Enhancing the library there are also pictures, objects and personal memories as well as pages of political reports which marked the life of the ex-senator.
Opening times:
Winter                                             Summer                                
Tuesday: 9.00 - 12.30                       Tuesday: 9.00 - 12.30
Wednesday: 15.30 - 19.00                 Wednesday: 16.30 - 20.00
Thursday: 9.00 - 12.30                      Thursday: 9.00 - 12.30
Friday: 15.30 - 19.00                          Friday: 16.30 - 20.00
For more information you can contact the library at the following telephone number: 0584 45165